In today's digital age, having a solid online presence is crucial for any business to succeed.
The Australian digital marketing industry has been on an upward trajectory in the past few years, with an annual growth rate of 12% expected through 2024.
With so much noise and competition out there, it's hard to make your brand stand out from the crowd. Thankfully, you don't have to do it all alone — hiring a digital marketing agency can be one of the smartest moves for businesses looking to stay ahead of their competitors.
By partnering with an experienced team of marketers, you'll gain access to valuable insights and knowledge that can create powerful results for your business!
In this blog post, we'll explore why businesses should invest in hiring a digital marketing agency for maximum success.
5 Reasons To Hire A Digital Marketing Agency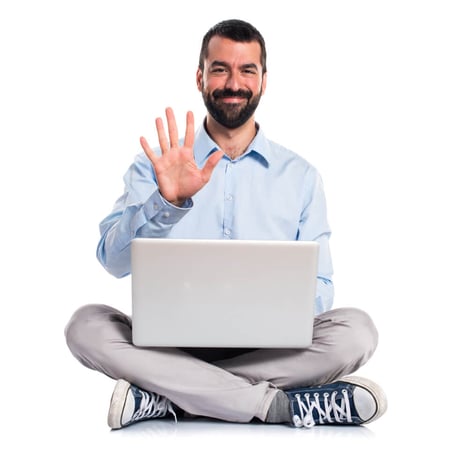 1. Access to Specialized Knowledge and Expertise
Digital marketing is a complex and constantly evolving field. With continuous algorithm changes, new technologies, and evolving customer behaviour patterns, it can be challenging to keep up with the latest trends and updates.
A digital marketing agency is staffed with trained professionals who have a deep knowledge of their craft. They stay up-to-date with the latest changes in the digital space, ensuring that they can create effective campaigns tailored to your business needs.
When you partner with a digital marketing agency, you get access to a team of specialists well-versed in SEO, content marketing, PPC advertising, social media advertising, email marketing, and many other areas of expertise.
2. Cost-Effective Solution
While hiring a digital marketing agency may seem expensive, it can save you money in the long run. Creating an in-house marketing team would require you to invest in hiring, training, and equipping a team of professionals.
Alternatively, when you hire an agency, you only pay for the services you need, and you can adjust your budget according to your goals. Most digital marketing firms will work with you on a retainer basis, meaning you pay a flat rate each month, and they create a custom package of services to meet your specific needs.
3. Increased Productivity
Outsourcing your digital marketing needs allows you to focus on the core aspects of your business, ensuring that you're delivering your products and services to your customers.
When you work with a reliable digital marketing agency, you will have collaborative project management tools that will enable you to track the progress of the project remotely.
This will enable you to have more control of the project and no need to devote time and resources to monitoring the digital marketing team.
4. Measurable Results
In digital marketing, everything that is made can be assessed and measured. Digital marketing agencies use analytical tools like HubSpot to track campaign performance and deliver a detailed report outlining the results.
The report will provide valuable insights that you can use to improve your digital campaigns moving forward. As a result, you have a comprehensive view of the situation and even make data-driven decisions.
5. Competitive Advantage
A digital marketing agency can help position your business at the forefront of your market.
When your marketing efforts are highly targeted, your brand recognition is enhanced, and your engagement transmits to your potential and existing customers. This will help your business stand out from your competitors, allowing you to gain a competitive advantage.
With detailed competitive intelligence data, a digital marketing agency can help you evaluate its strengths and weaknesses in the digital landscape, enabling you to adjust and improve your strategies.
How To Choose The Right Digital Marketing Agency For Your Business?
Firstly, it's important to consider the agency's experience and expertise. Look for an agency that has a proven track record of success in your particular niche or industry. You want to work with a team that has a deep understanding of your target audience, as well as the unique challenges and opportunities facing your business.
Secondly, you should consider the agency's approach to digital marketing. A good digital marketing agency will take a strategic and holistic approach to your digital marketing efforts, considering all aspects of your online presence and developing a comprehensive marketing plan that aligns with your business goals.
Thirdly, it's important to evaluate the agency's communication and collaboration skills. Smooth and effective communication is essential for a successful partnership. Look for an agency that values transparency and open communication, and is willing to work closely with you to ensure your needs and expectations are being met.
Finally, you should also consider the agency's pricing structure and overall value. While it's important to stay within your budget, it's also important to choose an agency that delivers real value and is willing to invest the time and resources necessary to help you achieve your goals.
Conclusion
All things considered, digital marketing is essential for businesses. As the saying goes: "If you don't have a strategy, you're destined to fail".
To ensure you benefit from the services of a Digital Marketing Agency, remember to consider these five tips when choosing the right agency for your business: Experience and expertise, Strategic and holistic approach, Communication and Pricing structure.
Do what's best for the success of your organization and hire a digital marketing agency that will make sure your goals are met while giving you bang for your buck! If you're looking for someone specialised in providing quality services then let us introduce you to ScaleStation - an innovative Digital Transformation & Growth Marketing Agency that can take your online presence and reputation to the next level.
So what are you waiting for? Contact us now, and let's get started on making this happen!
It's time to use everything we know about digital marketing and leverage our expertise to boost sales and skyrocket your business.
Originally published 02/11/2023 5:00:59 PM , updated on November 2, 2023