As we head into the better part of this decade and year, data and customers are becoming more and more valuable to businesses of all sizes and measures. Whether you are a remote, full-stack web development agency or a core construction company based in the US, you would surely want to get your hands on customer data. And this data spans from their acquisition to conversion and in some cases, retention.
Have you ever wondered why this data is an invaluable asset to brands worldwide?
Yes, you guessed that right.
This data helps you break down the whole buyer's journey of an ideal customer for your brand. It helps you understand consumer behavior on your website better and make amends to your current strategy and assets. All of this is to manage customer relationships in a profound way which, in turn, accelerates business growth and generates revenue.
When we talk about managing customer relationships, we refer to CRM(Customer Relationship Management) tools and any conversation about CRM tools is incomplete without the mention of HubSpot.
With its powerful features and intuitive interface, HubSpot has become a go-to choice for companies across various industries. HubSpot provides a wide range of tools and functionalities, including email marketing, social media management, content management, lead generation, customer support, and analytics. It offers an all-in-one solution that enables businesses to streamline their marketing, sales, and customer service processes, leading to improved efficiency, increased revenue, and enhanced customer experiences.
Importance of Understanding HubSpot Pricing
While HubSpot's features and benefits are undoubtedly appealing, understanding the pricing structure is essential for businesses considering a HubSpot subscription. Making an informed decision about HubSpot pricing can save you from unexpected costs, ensure you choose the right plan for your needs, and maximise the value you derive from the platform.
Market share of the leading marketing automation solution providers worldwide as of December 2022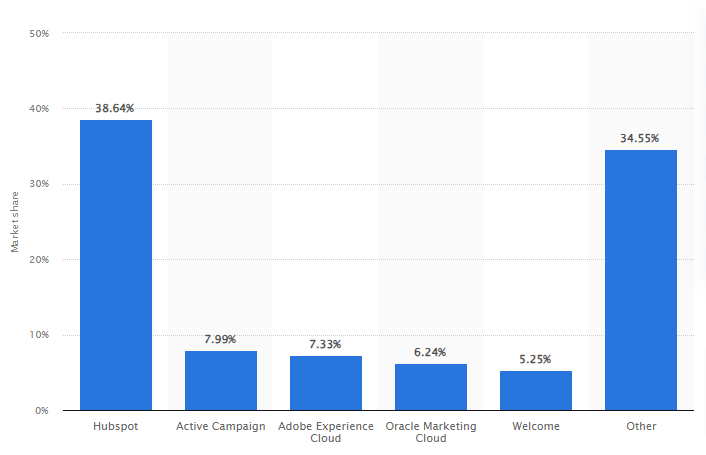 HubSpot offers different pricing tiers tailored to businesses of various sizes and needs. Each tier provides different features and functionalities, and the pricing varies accordingly. By gaining a comprehensive understanding of HubSpot's pricing structure, you can align your investment with your business goals and budget, ensuring you get the most out of your HubSpot subscription.
In the following sections of this blog, we will delve deeper into the factors that brands should consider before purchasing a HubSpot subscription and explore the breakdown of HubSpot's pricing structure. By the end, you will have a clear understanding of what to expect in terms of costs and how to choose the right plan for your business. Let's dive in!
Key Factors to Consider Before Purchasing a HubSpot Subscription
If I am to speak from a growth perspective, we all may find every other tool to be a great find for our businesses. Don't we? Especially when there is so much buzz and a plethora of B2B/B2C tools and softwares out there.
But a budget is a budget.
Even if it is a nifty and essential tool like HubSpot, we ought to consider some factors before investing in it. Understanding these key factors will help you make an informed decision and ensure that your HubSpot subscription aligns with your business needs and goals.
Company Size and Goals
Before diving into HubSpot's pricing options, it's crucial to assess your company's size and goals. HubSpot offers different pricing tiers designed to cater to businesses of varying sizes, from small startups to large enterprises. Evaluating your company's size will help you determine which pricing tier aligns best with your needs and budget.
Required Features and Functionality
Identifying the specific features and functionality your business requires is another vital factor when considering HubSpot pricing. HubSpot offers a wide range of tools and modules, such as email marketing, CRM, marketing automation, sales enablement, and customer support. Assess your business's needs and prioritise the features that are essential for your operations.
Integration Capabilities
Consider the existing software and systems your business relies on and whether they can seamlessly integrate with HubSpot. Integration capabilities can greatly enhance the effectiveness and efficiency of your workflows. HubSpot offers integrations with popular platforms such as Salesforce, Shopify, WordPress, and more.
Customer Support and Training Options
Evaluate the level of customer support offered by HubSpot, such as access to technical support, account managers, and community forums. Additionally, consider the availability of training materials, documentation, and educational resources like webinars and certifications.
Scalability and Growth Potential
As your company expands, you might require additional features, increased contact or user limits, or more advanced functionalities. Understanding the scalability options provided by HubSpot and how they align with your growth trajectory will ensure that your subscription can accommodate your evolving needs without disruption.
HubSpot Pricing Structure
To get a good grasp of HubSpot's pricing structure, we should start from scratch and learn about its offerings. HubSpot offers 5 different hubs as the following:
Sales Hub - Empower your sales team with lead management, automation, and analytics tools to streamline the sales process and close deals more effectively.
Marketing Hub - Drive your marketing efforts with powerful lead generation, email marketing, social media management, automation, and analytics tools for comprehensive marketing campaigns.
Service Hub - Deliver exceptional customer support and satisfaction with ticketing, knowledge base management, live chat, feedback, and survey tools to provide top-notch service experiences.
CMS Hub - Build and manage your website effortlessly with content creation, optimisation, SEO tools, and responsive design to deliver a seamless user experience.
Operations Hub- Connect and automate your business processes by integrating data across platforms, systems, and teams, enabling smooth workflows and enhancing overall operational efficiency.
Based on your requirements, you may want to choose any of the aforementioned hubs and start your processes around them.
Overview of HubSpot's Pricing Tiers
HubSpot offers a tiered pricing structure designed to accommodate businesses of various sizes and needs. We will first checkout the different tiers provided by HubSpot which are as follows:
Free: HubSpot provides a free plan that offers essential tools and features, making it a great starting point for small businesses or those on a tight budget. However, it has limitations on the number of contacts, users, and available features.
Starter: The Starter plan is suitable for small businesses looking to expand their marketing and sales efforts. It offers increased contact and user limits, more advanced features, and greater customisation options.
Professional: The Professional plan caters to growing businesses that require comprehensive marketing, sales, and service capabilities. It provides advanced automation, analytics, and integration options, along with increased contact and user limits.
Enterprise: The Enterprise plan is designed for larger organisations with more complex needs. It offers advanced features, dedicated support, and additional customisation options. The Enterprise plan is highly scalable and provides extensive control and flexibility for businesses with significant growth potential.
If we consider the free plan as a starting point to use the HubSpot tool, we can conclude that there are majorly 3 pricing tiers. Next, we will check the pricing for each of the different hubs( matched against these three pricing tiers.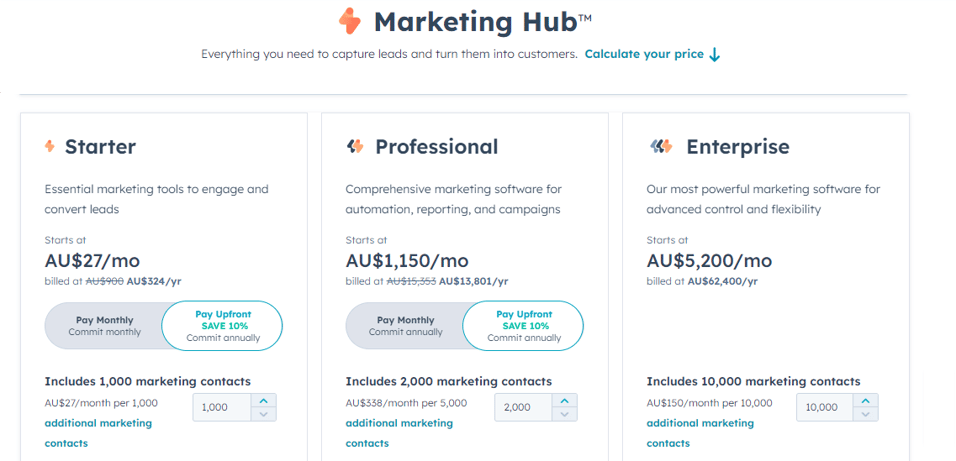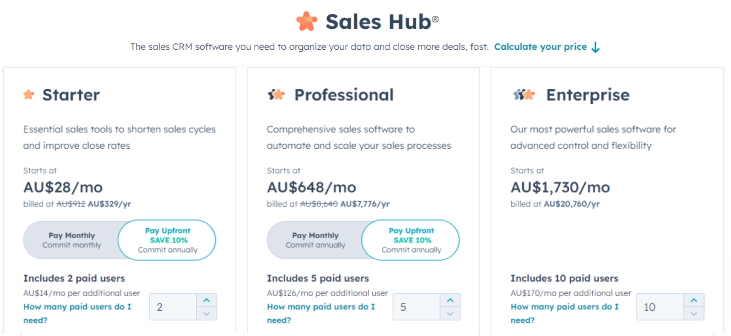 Comparison of Different Pricing Tiers and Their Features
Each pricing tier comes with its own set of features and functionalities. While the Free plan is a great starting point, businesses often require the advanced capabilities offered by the paid plans. Some features commonly found in the paid tiers include:
HubSpot Marketing Hub

HubSpot Sales Hub

HubSpot Service Hub

HubSpot CMS Hub

HubSpot Operations Hub
Add-ons and Additional Costs
In addition to the pricing tiers, HubSpot also offers add-ons and additional costs that businesses can consider based on their specific requirements. These may include:
Additional Contacts: If you exceed the contact limit in your chosen plan, you may need to pay an extra fee to accommodate additional contacts in your database.
User Seats: Some plans have a limit on the number of users. If you require more user seats for your team members, you can add them at an additional cost.
Advanced Functionality: HubSpot offers advanced add-ons and features that can be purchased separately, such as Sales Hub Enterprise, Marketing Hub Enterprise, or additional reporting and analytics options. These add-ons provide more robust capabilities tailored to specific business needs.
HubSpot Onboarding : Well this might not be discussed a lot but many would consider onboarding to the HubSpot platform a definite hidden cost. This step accounts to the initial account setup and training of your team for the platform.
You will find a lot of resources shared by HubSpot, to help you kickstart things in a controlled way. But it is advisable to connect with experienced HubSpot partner firms and get HubSpot onboarding services. This is another additional cost(though small) which should be considered.
Other HubSpot Pricing Options
While we discussed the three major HubSpot pricing tiers, starter, professional, and enterprise, there are some other pricing options to explore. While these may be suited for enterprises and brands who are interested in customising their needs, they are worth discussing.
The HubSpot CRM suite is designed for big brands who would want more out of the basic three pricing tiers. With the CRM suite, you get to scale the existing hubs with all the features you may require. It's a discounted bundle of the favorite HubSpot features for companies thinking long term.
The CRM suite also comes with 3 different packages - starter, professional, and enterprise.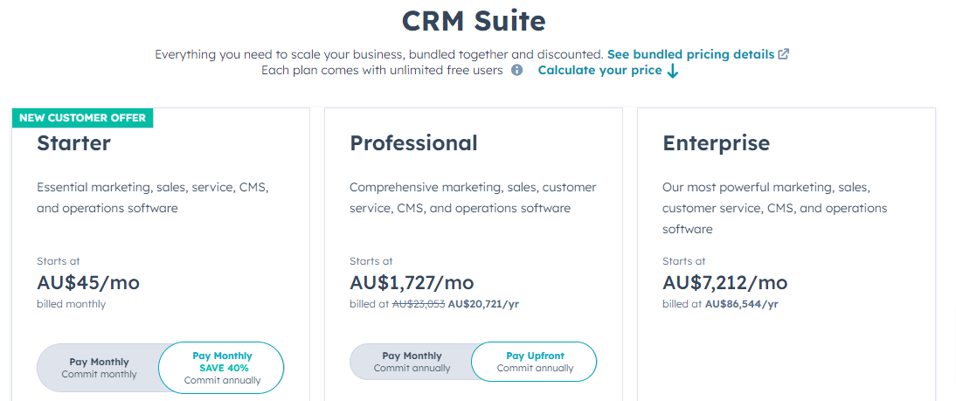 The Starter CRM Suite will comprise of:
Marketing Hub Starter(1,000 marketing contacts)
Sales Hub Starter(2 paid users)
Service Hub Starter(2 paid users)
CMS Hub Starter
Operations Hub Starter
The Professional CRM Suite will include the Starter CRM Suite, plus:
Marketing Hub Enterprise(10,000 marketing contacts)
Sales Hub Enterprise(10 paid users)
Service Hub Enterprise(10 paid users)
CMS Hub Enterprise
Operations Hub Enterprise
Apart from the predefined HubSpot bundles, HubSpot also allows you to create a custom bundle suiting your custom needs. We all have different choices and opinions about everything, then why not different business requirements?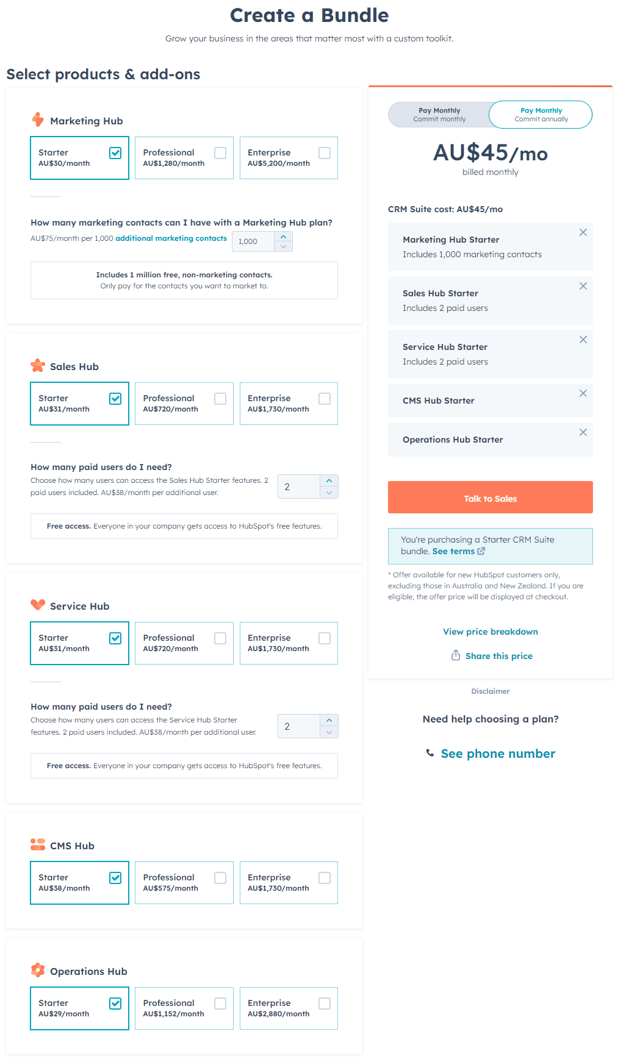 You can also add different HubSpot add-ons to your custom bundle and make it comprehensive.
How to Get The Most Out of HubSpot Pricing in 2023
Once you have explored all the HubSpot pricing options available and have finally made up your mind about purchasing the right HubSpot subscription, it's time to glance down a few points on how to leverage the HubSpot tool in 2023.
Utilise all available features: Explore and leverage the full range of tools and functionalities offered by HubSpot to maximise the value of your subscription.
Take advantage of training and certification programs: Invest in training resources and certifications provided by HubSpot to ensure your team has the knowledge and skills to utilise the platform effectively.
Integrate HubSpot with other tools and platforms: Seamlessly connect HubSpot with your existing systems and software to streamline workflows and maximise data synchronisation.
Leverage automation and analytics: Embrace the power of automation and utilise the robust analytics capabilities of HubSpot to drive data-informed decision-making and optimise your marketing, sales, and service strategies.
Regularly evaluate and adjust your subscription: Periodically assess your usage, business needs, and growth trajectory to ensure your HubSpot pricing plan aligns with your evolving requirements.
Engage with the HubSpot community: Participate in the HubSpot community forums, events, and networking opportunities to learn from other users, exchange best practices, and gain insights on maximising the value of your subscription.
Conclusion
In conclusion, understanding HubSpot pricing is crucial for businesses looking to leverage the power of this all-in-one marketing, sales, and customer relationship management (CRM) platform. Throughout this blog, we have explored the key factors to consider when purchasing a HubSpot subscription, delved into the breakdown of HubSpot's pricing structure, and provided tips on how to get the most out of your HubSpot investment in 2023.
By carefully considering your company's size, goals, required features, integration capabilities, customer support options, scalability, and customisation needs, you can make an informed decision when selecting the most suitable HubSpot pricing plan. Whether you're a small startup or an enterprise-level business, HubSpot offers pricing tiers designed to cater to your unique requirements.
We hope this comprehensive breakdown of HubSpot pricing has provided you with the necessary insights to make informed decisions for your business. HubSpot's robust suite of tools and functionalities can help drive your marketing, sales, and customer service efforts, leading to enhanced efficiency, increased revenue, and improved customer experiences.
Originally published 20/06/2023 1:20:47 PM , updated on July 17, 2023